Welcome to my website! I was elected to represent the 95th District in the Virginia House of Delegates (parts of Newport News and parts of Hampton). I am honored to serve the citizens and help make the Peninsula an even better place to live, learn, work, play, and raise a family.
On, Tuesday, November 7th, we elected new positions across the Commonwealth. Congratulations to Governor-Elect Ralph Northam, Lt. Governor-Elect Justin Fairfax, re-elected Attorney General Mark Herring, and new members to the House of Delegates. In Newport News, congratulations to Sheriff Gabe Morgan, Commonwealth's Attorney Howard Gwynn, Treasurer Marty Eubank, and Commissioner of the Revenue Tiffany Boyle. In Hampton, congratulations to Sheriff BJ Roberts, Commonwealth's Attorney Anton Bell, Treasurer Molly Joseph Ward, and Commissioner of the Revenue Ross Mugler. I look forward to all working together to make the 95th District even better!
The 2018 General Assembly Legislative Session began at 12noon on Wednesday, January 10, 2018. All 100 members of the Virginia House of Delegates took our oath to begin a new term. Watch our Official Swearing In by clicking here. We adjourned Sine Die on March 10, 2018. We anticipate going back in for a Special Session in order to pass our Budget. We will also have Reconvened Session on April 18, 2018 to vote on actions from Governor Northam.

Be sure to check back often for news posts and updates from the District. Also, stay tuned for ways you can stay engaged and continue to use your voice. Stay informed on this site and our social media pages to stay connected to what we're doing and how you can help!
Now, let's go make a difference!
Sincerely,
Delegate Marcia "Cia" Price,
Virginia House of Delegates, District 95
"Be the change. Do the work."
News
Wednesday, March 14, 2018 7:50 PM
Farther south, Heritage High School's student activity and group leaders invited Del. Marcia "Cia" Price, D-Newport News, to take part in their events.
They read aloud the 17 names of the victims, held a moment of silence and three spoken word student performers talked about how the Parkland shooting made them feel.
"They were just really talking about how it effects them personally," Price said. "With Heritage, (the) 23607 (ZIP code), gun violence means something different than a lot of students across the country. It was about the everyday gun violence that they see. I really think that their ability to add that to the national conversation was really powerful. It was student-led, student implemented, and then they were back in their seats."
---
Wednesday, March 14, 2018 2:25 PM
Whether the preventions that lawmakers do propose are too invasive or too simplistic becomes yet another part of the debate.
Opinions are as varied as the number of people you ask.
Democratic Sen. Mark Warner said he's "committed to figuring out a way to put an end to mass shootings, and that means looking at all options. Frankly, we shouldn't have to choose."
Del. Marcia S. "Cia" Price, D-Newport News, said it's "shortsighted" not to acknowledge that both mental illness and lax gun controls contribute to gun violence or mass shootings. But she warned against conflating the two. "Every time we have gun violence, it's blamed on mental health," said Price. "I think that is over-simplified and very shortsighted."
...
Wright chairs a subcommittee of the Militia, Police and Public Safety Committee, where most gun bills go to die.
Among them this year were two measures introduced by Del. Price that would have required a parent's permission before a minor could keep a gun in the home and allowed localities to regulate gun possession inside government buildings.
Other failed bills would have required licensed day cares to keep guns locked up when children were around, banned carrying firearms or ammunition at major public events and forbade organized groups from marching and brandishing weapons in a threatening manner.
In all, about 70 gun-related bills never made it out of committees this session, said Price.
"We can do our jobs by presenting them," Price said. "But if a subcommittee of six to seven people can prevent us from having a larger conversation with the full floor, then that's not productive. That does not help us move the ball."
---
Monday, March 12, 2018 3:25 PM
Upcoming Events w/ Del. Price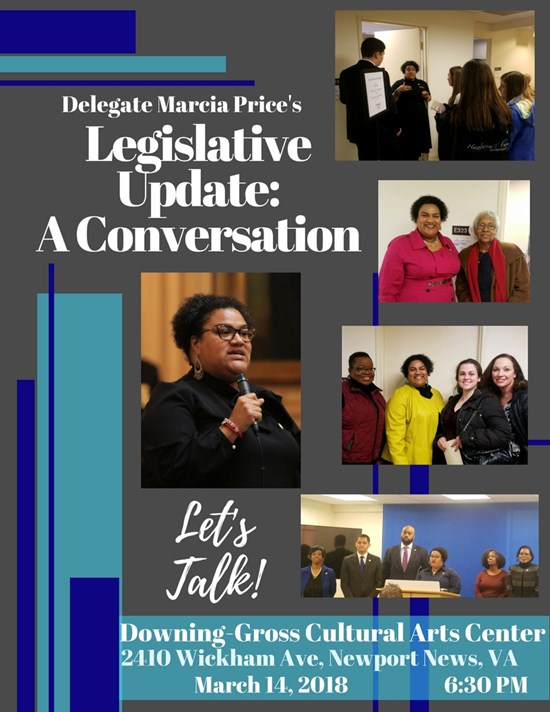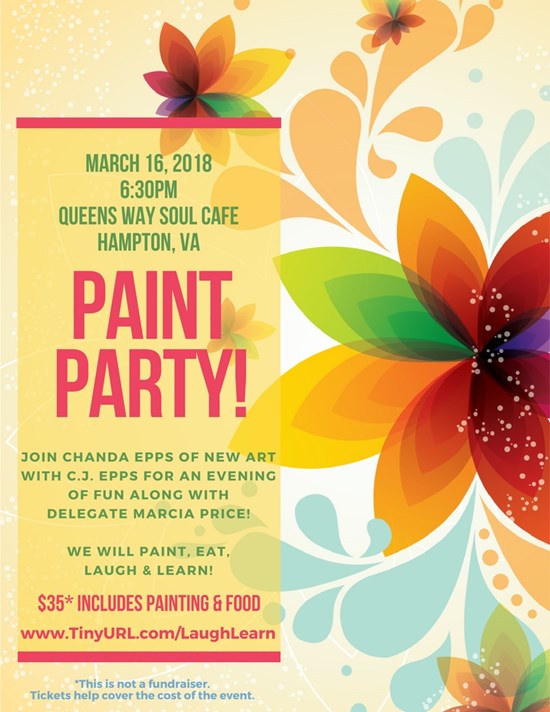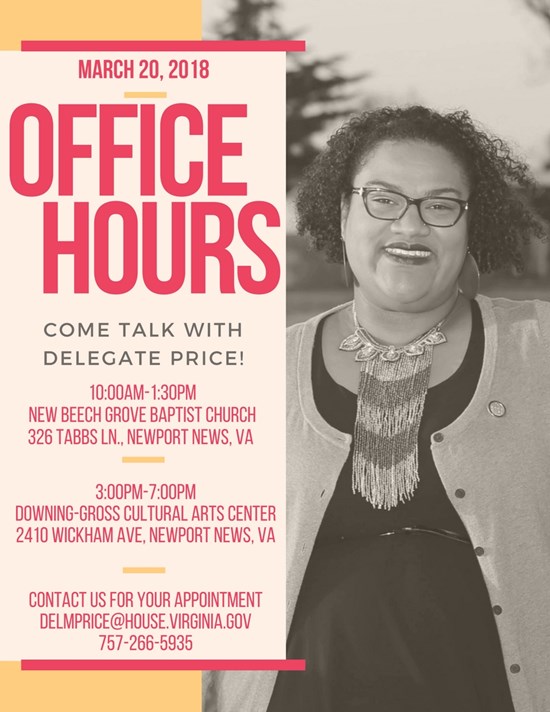 ---
Saturday, March 10, 2018 3:00 PM
Student Loan Reform
House Democrats are fighting to ensure that all Virginians have access to affordable, high-quality education.
Delegate Cia Price passed legislation to help borrowers navigate student loansby establishing a student loan ombudsman. In addition to helping Virginians understand their financial commitments, the ombudsman will also help resolve complaints from borrowers against companies that engage in predatory practices.
Delegate Schuyler VanValkenburg passed a bill to protect people who struggle to make their student loan payments from losing their professional licenses. The New York Times recently published a story on states that suspend the professional licenses of people with unpaid loans and the policy's devastating effects on working people.
---
Thursday, March 8, 2018 12:00 AM