Upcoming Events, Opportunities, & Announcements!
UPDATE: Because of the projected winter snow storm and extremely low temperatures, we are changing our town hall event to an online webinar. Register and we will send you the log on information for Thursday's session.
Hear more about my legislative priorities and proposed legislation for the 2018 Virginia General Assembly Legislative Session in Richmond. Get your questions answered, share your input, and learn more about the process of session. Registration for this event is free, click the flyer for the registration website to receive the log-on information for the webinar.
For more information, please email DelMPrice@house.virginia.gov or call Tempestt at 757-266-5935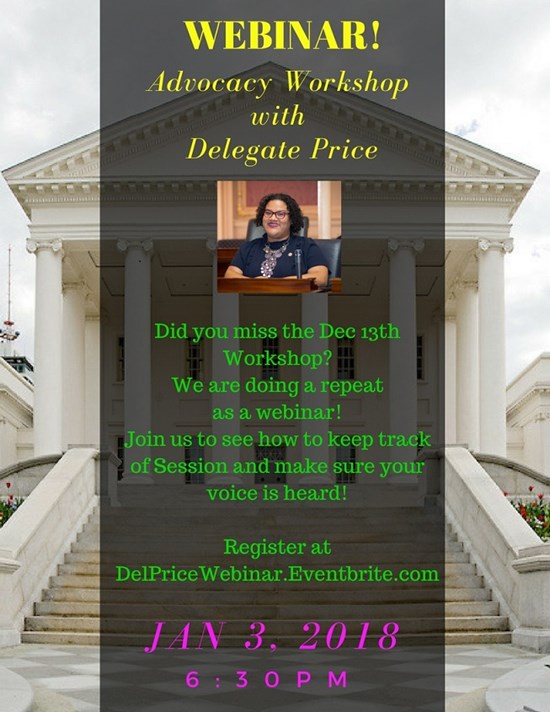 If you missed the December 13th Advocacy Workshop, be sure to join us on Wednesday, January 3, 2018 for the webinar repeat. Learn how to follow along with the Legislative Session without having to travel. Also, make sure your voice continues to be heard throughout the legislative process. Register for free at www.delpricewebinar.eventbrite.com
Let us help you celebrate! Is your organization or faith community celebrating an anniversary year that ends in 0 or 5? Are you located in or do you serve the constituents of the 95th District? Let us know and we may be able to sponsor a commending resolution from the Virginia General Assembly! Email us atdelmprice@house.virginia.gov for more info or to discuss your anniversary celebration!
The Way Ahead is a celebration of the prosperity possible through a unified Commonwealth honoring its diversity and inclusivity. Which is why the Governor-elect and Pam Northam are thrilled to invite all Virginians from across the Commonwealth to Richmond to celebrate the way ahead on January 13, 2018.

Ceremony Tickets: https://www.vainauguration2018.com/ceremony-tickets/
Inaugural Ball Tickets: https://www.vainauguration2018.com/inaugural-ball/
Volunteer Opportunities: https://www.vainauguration2018.com/volunteer/
Did you know?
There are grant opportunities available for Businesses located in Enterprise Zones- click for more info and how to apply!
I have the honor of serving on the transition team for Governor-Elect Ralph Northam and we are looking for dedicated and committed individuals to serve within the administration for the next four years. Full time positions and positions on boards and commissions are available. Interested citizens should apply at this website: http://govelect.virginia.gov/
Continuous Events!
Newport News City Council Meeting: City Council typically meets the 2nd and 4th Tuesdays of each month at 7:00 pm in City Council Chambers, City Hall, 2400 Washington Avenue. Meetings are shown live on the City's Cable Channel NNTV (Cox Ch 48/Verizon Ch 19) and are streamed live on www.nnva.gov/nntv. City Council meetings are also available to be watched on-demand the day following the meeting. Oftentimes City Council holds work sessions in the 10th floor conference room of City Hall in the afternoon before the regular meetings. Work sessions are open to the public. Agendas for work sessions and regular meetings are available online in the Agenda Center the Friday before the meeting.
Newport News School Board Meeting: For their schedule, click here. Regular Meetings: 6:30 p.m. and Work Sessions: 5:30 p.m. The meetings are located at the Auditorium at the NNPS Administration Building, 12465 Warwick Boulevard, and unless otherwise noted, all meetings of the School Board are open to the public. To watch past meetings, click here.
Hampton City Council Meeting: City Council meets on the 2nd and 4th Wednesday of each month. The meeting begins at 6:30pm at Hampton City Hall, 22 Lincoln Street, Hampton, VA 23669. Click here for the agenda, once it has been posted http://www.hampton.gov/3098/City-Council-meeting-information
Hampton School Board Meetings: School Board meetings are held on the first and third Wednesday of each month. The first meeting of the month is a regular meeting and is televised live on Cox Cable Channel 46 and FIOS Channel 20. This meeting is held at Jones Magnet Middle School, 1819 Nickerson Blvd. The second meeting of the month is a work session and is not televised. This meeting is held at the Ruppert Sargent Building at One Franklin Street. Both meetings are open to the public and begin at 6:30 p.m.
South District Townhall Meeting - 2nd and 3rd Thursdays
2nd Thursday - Midtown Community Center 6:00pm-7:30pm

3rd Thursday - Downing Gross Cultural Arts Center 6:00pm-7:30pm

Hosted by Councilwoman Saundra Cherry
North District Townhall Meeting - 4th Mondays
Denbigh Community Center

7pm

Hosted by Councilwoman Sharon Scott
Check back often for more events!