YOU STILL HAVE TIME!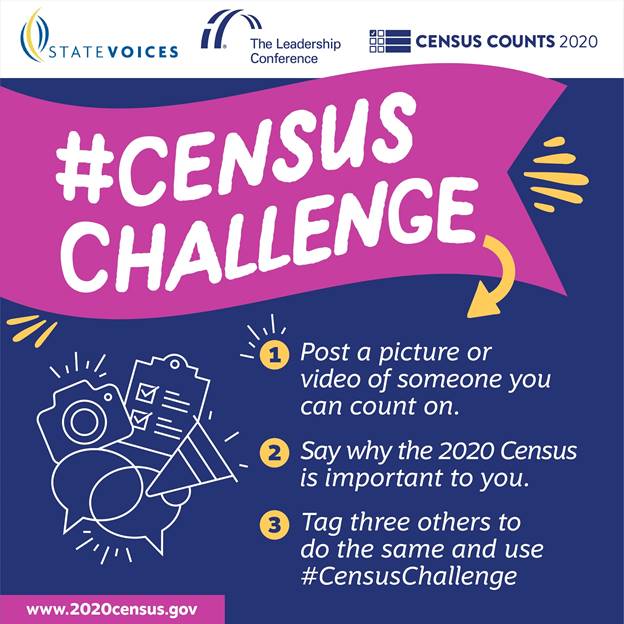 Make sure you and everyone you love know about the importance of completing the census, the answers to myths about the Census, and more!
1. You can respond ONLINE
2. You can respond BY PHONE
The 2020 Census can be completed by phone in the following languages. Phone lines are open every day from 7am to 2am Eastern Time.
For information on services for people who are deaf or hard of hearing: Call the TDD number at 844-467-2020.
3. You can respond BY MAIL by returning the form you received.
Self-Response* Rates for the 2020 Census as of 8/6/2020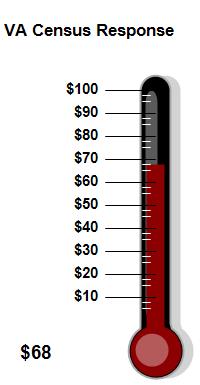 National: 63.2%
Virginia: 67.9%
Newport News: 63.1%
Hampton: 65.1%
*Self-response means that the response was given without the need of a Census taker.
Educational Materials:
Other resources for Pre-K through 12th grade
More Information on the Census:
Why is this important?
Getting a complete count in VA for the 2020 Census is really important. Data from the Census is used for four main purposes:
-Apportionment: how the 435 voting members of the US House of Representatives are distributed across the country
-Redistricting: how district lines are drawn for elected offices like Delegate, State Senator, Congressional Rep
-Allocation: how federal funding is decided to be given out across the country
-Demographic Awareness: how we know who lives in our neighborhoods and cities, businesses use this data in deciding where to set up shop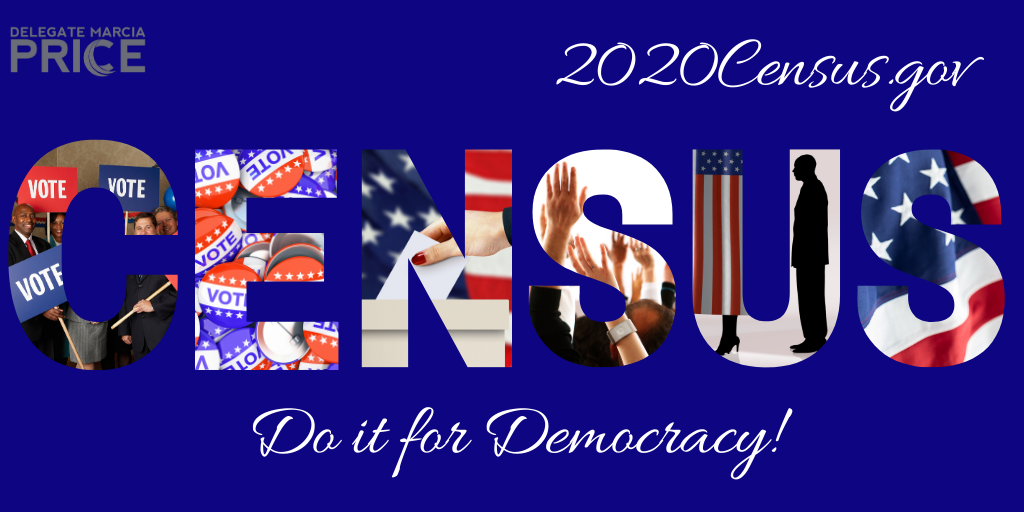 What's at stake if people go uncounted?
-Our area could lose Congressional representation.
-District lines could be altered and not truly represent those living in them.
-In 2015, around $675 Billion in federal funds was allocated based on Census data. It is estimated that for every one person in Virginia that goes uncounted, $2000 per year for 10 years or $20,000 goes somewhere else. That would be $10M over 10 years that a city would miss out on if 500 people go uncounted.
-The policies we make on local, state, and federal levels are based on who lives in our areas so we need to know who we represent and the needs they may have.
Make sure you and your loved ones are committed to filling out the 2020 Census by phone, online, or by mail! It's too important to miss this one.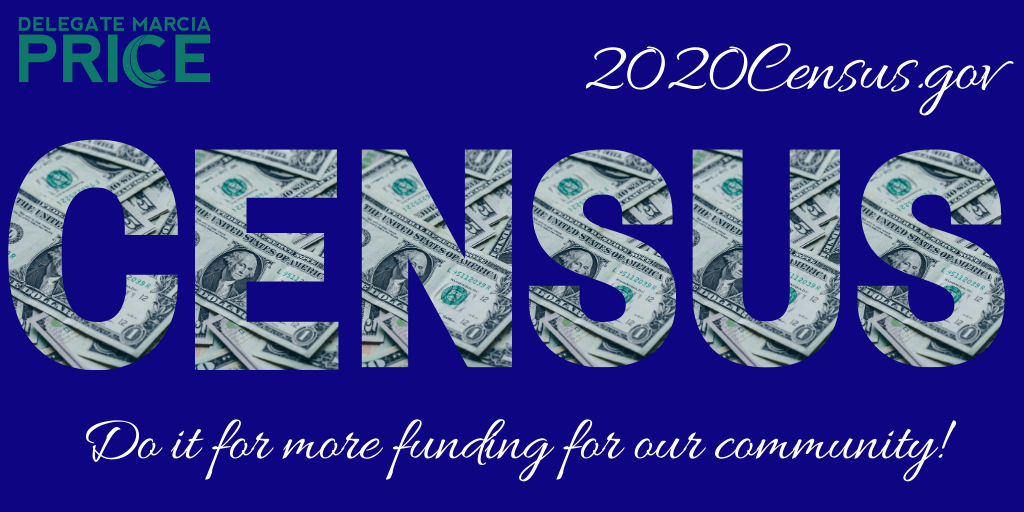 What stands in the way of a complete count?
Did you know that some of Newport News and Hampton are considered "hard to count"? That means that some of our neighbors needed a little more encouragement to fill out and return their census forms. This year, the census can be completed by phone, online, and by mail. Click here are some fact sheets about reaching "hard to count" communities.
Some facts to consider:

-Young children are about 6% of the VA population. Many children live experiencing poverty and need resources that are often funded by census data like Medicaid, SNAP, public housing, SCHIP, and education grants. School districts can lose funding as well if young children go under-counted. Every child at a residence is supposed to be included, no matter their age.
-For those that are 65+, they are about 15% of the VA population. Often our seniors may experience technological difficulties in trying to fill out the Census online. Data also shows they may have a misconception about the need and requirement of filling out the Census.
-Latinx/Hispanic communities are about 9.4% of the VA population. The Census is supposed to count all people of all ages living in Virginia on April 1st, no matter someone's citizenship status. Though undocumented people in Virginia paid about $256M in state and local taxes in 2014, the current political climate can often create fear and intimidation in participating in the Census. There are also perceived language barriers, experiencing poverty, and lack of access to educational opportunities that create barriers. If answering the Census by phone, there are several languages available including Spanish.
-Asian American and Pacific Islander residents in Virginia are an estimated 7% of the total population of the Commonwealth. Perceived obstacles in completing the Census are language proficiency, misconceptions about the Census, and housing insecurity. If completing the Census by phone, there are a lot of different languages available.
-Black/African American residents often go under-counted. More than any other men, Black men have been historically under-counted. One in three Black residents lives in hard to count Census tracts. Housing insecurity makes some families more likely to be missed in the Census as well.
Find this information and more on the Virginia Complete Count Commission website.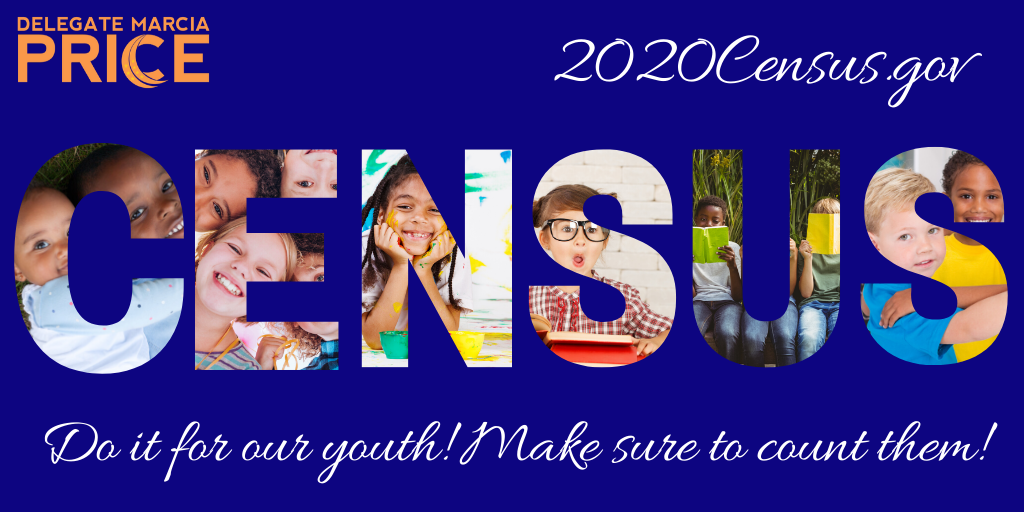 Is your information safe?
Information given to Census Takers is safe. By law the information is confidential and can not be shared for any other purposes. There are penalties if your information is shared, including up to a $250,000 fine and/or up to 5 years in prison. Sharing your information online is also safe. Find more information about the confidentiality of your Census info by clicking here.
What can you do to help?
The best thing you can do to help make sure we get a complete count is to join your local Complete Count Committee and help spread the word about the 2020 Census - Everyone can help! You and your faith community, non-profit organization, school group, social club, and business can be an integral part of helping teach about the importance of the Census.
To join, reach out to the local committees:
Newport News - Brian Pierce, Department of Planning, Phone (757) 926-7685, Email piercebc@nnva.gov
Hampton - Lucy Stoll, Department of Planning, Phone (757) 727-6301, Email lucy.stoll@hampton.gov
To learn more about others committees, click here.
Click here to find your local Complete Count Committee so that you can help your city get a complete count.

If you live in the 757, you can sign up for Census updates by text if you send "PLEDGE" to 757-210-3232. Let's take action to make sure we have a Complete Count in Virginia in 2020!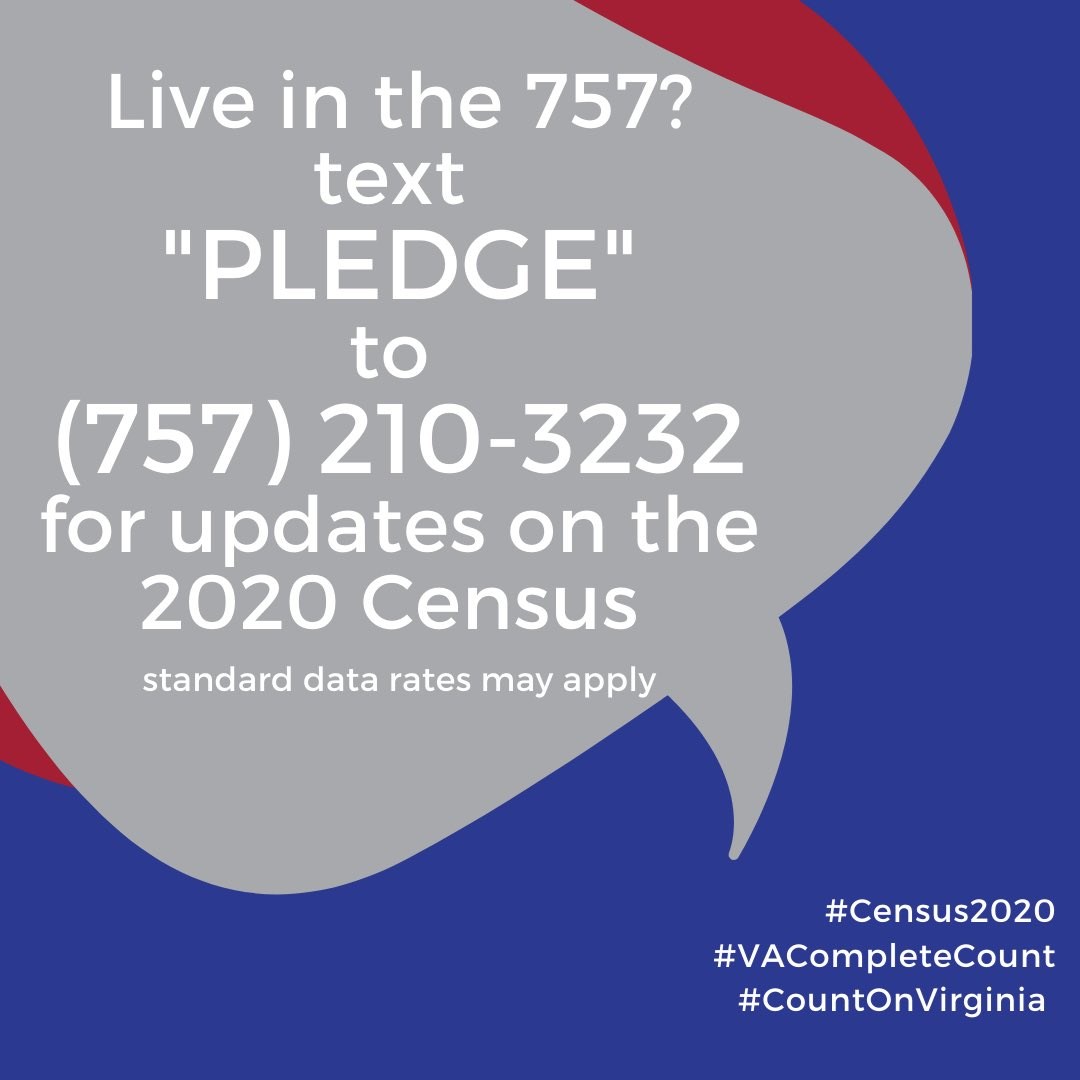 Updated 5/12/2020