Tue Jun 12 2018 6:30 PM to 8:00 PM
Legislative Convo w/ Del Price
**This is a new date!** Hear an update from me on the 2018 Legislative Session, Reconvened Session, and Special Session and offer your feedback as we begin to prepare for the 2019 Legislative Session! Are you interested in the budget, medicaid expansion, education, workforce development, crime prevention, and more? Get your questions answered and share your ideas.
Be a part of the legislative process.
All are welcomed, first-timers and old pros!
We will provide snacks, beverages, and important information!
Youth Activities are available for ages 5-15 - preregistration is required!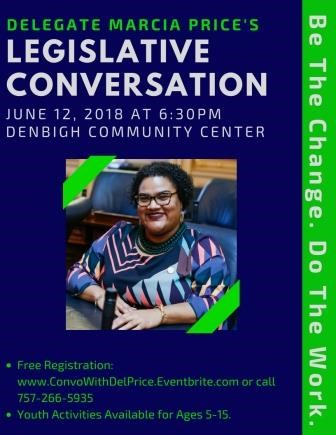 15198 Warwick Blvd
Newport News, VA 23608
7572665935
convowithdelprice.eventbrite.com
Get Driving Directions