Welcome to my website! I was elected to represent the 95th District in the Virginia House of Delegates (parts of Newport News and parts of Hampton). I am honored to serve the citizens and help make the Peninsula an even better place to live, learn, work, play, and raise a family.
The 2021 General Assembly Legislative Session will begin at noon on Wednesday, January 13, 2021. During Session, all 100 members of the Virginia House of Delegates met every Monday-Friday at 4pm and you can watch all previous sessions here. The House has 14 standing committees and the meetings were held at various times during the week. Find our committee video here. Can't remember how a bill becomes a law, no problem! Get your refresher here to follow along the process.
You can track all of the bills that we introduce this year all the way through the legislative process. Here is the link for the bills I have introduced this year: bit.ly/DelPrice2021Bills
As you're following along, sign up for our email newsletter to receive important updates. And be sure to check back often for news posts and updates from the District. You can use this site and our social media pages to stay connected and see what we're doing and how you can help! We have included important information on COVID-19/Coronavirus, including evictions prevention information. Take a look around the site!
Thank you for visiting!
Sincerely,
Marcia "Cia" Price
Member, Virginia House of Delegates
95th District: Parts of Newport News and Hampton
"Be the change. Do the work."
A note about our Constituent Services work: There have been some frustrations expressed with our requirement that you let us know if you are a resident of the 95th District. While I understand that concerns and issues often do not have the same borders as districts, my primary commitment is to the people I serve and then I will do as much as I can for others. Feel free to reach out to your own Delegate if you do not live in the 95th District. Here's a link to find out which Delegate has the honor of serving you: Who's My Legislator
updated 1/11/2021
News
Wednesday, March 3, 2021 1:34 PM
Petition Drive-Thru Event - This Saturday!
THIS SATURDAY! Join me, the Newport News Democratic City Committee, and other Democratic candidates to help get us on the ballot. We need your signature! See you there with your mask on and you'll get to keep the pen! Or you can sign online at www.pricefordelegate.com/2021-petitions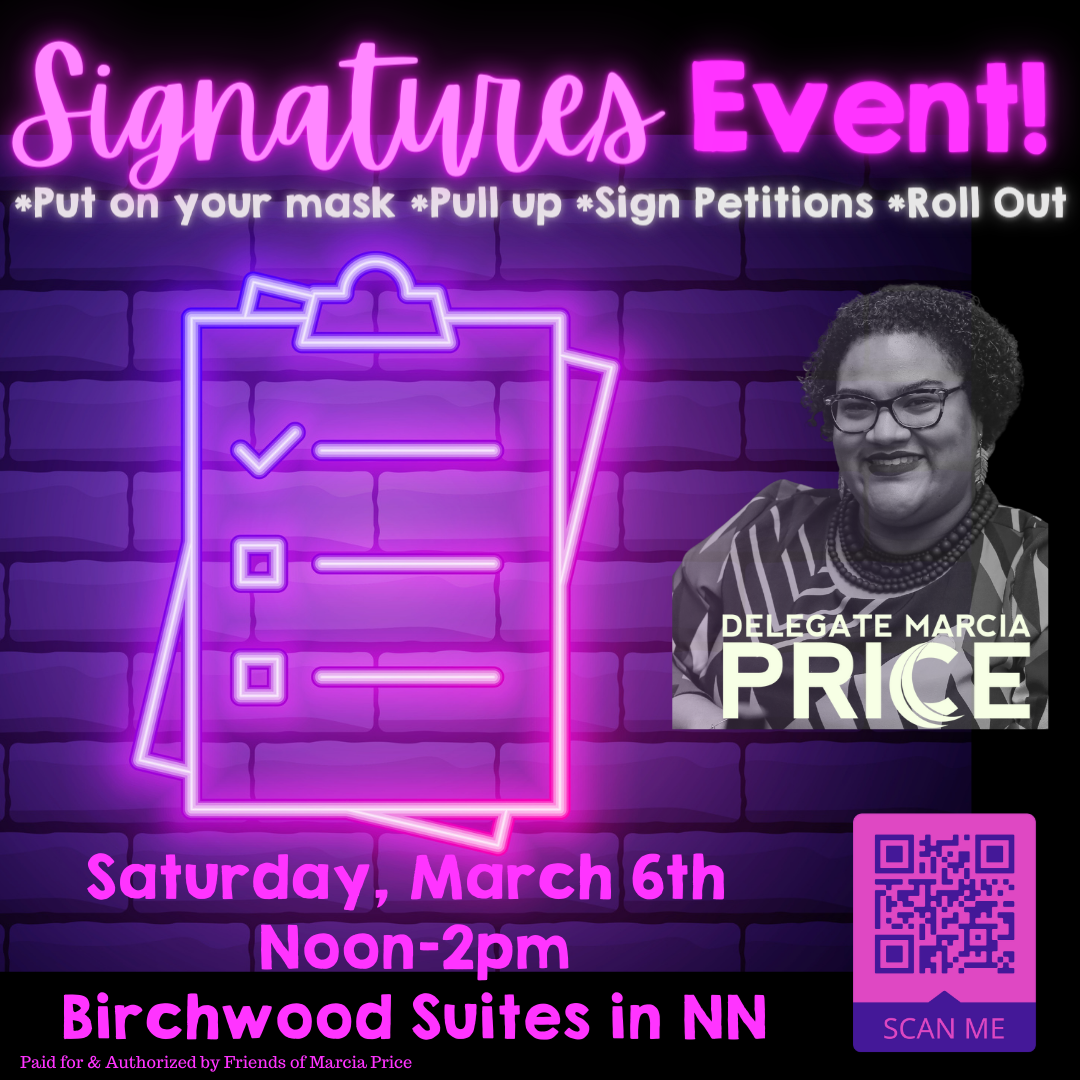 ---
Wednesday, March 3, 2021 1:22 PM
Del. Cia Price, D-Newport News, also introduced a bill this session advocating for domestic workers' rights. The General Assembly passed HB 1864, which expands the definition of employer in the Virginia Human Rights Act to protect domestic workers from workplace discrimination. The act prohibits workplace discrimination based on race, religion, sexual orientation, gender identity, disability and other factors.
---
Sunday, February 28, 2021 3:15 PM
But the compromise legislation has drawn criticism from some Democratic lawmakers and advocates, who have taken issue with key provisions of the bill, including how the specifics of new commercial and criminal justice regulations will be decided next year, when Democrats may no longer control both chambers of the state legislature, The Washington Post notes. "By legalizing without all the guardrails in place, I feel the message can be misconstrued ... that we have dropped the ball on the justice pieces," said Del. Marcia Price (D-Newport News), according to the Post. "Even the thought of business before justice is hard to stomach."
---
Friday, February 26, 2021 5:00 AM
Nearly eight years after the U.S. Supreme Court struck down a key provision of the landmark 1965 Voting Rights Act, Democrats in Virginia are poised to enact state-level legislation they say would boost voter protections.
Backers of the Virginia Voting Rights Act say it's the most comprehensive bill of its kind — and the first in the South. The legislation cleared a final vote on Thursday and now goes to Democratic Gov. Ralph Northam. "As we've seen on other issues, we can't rely on the Supreme Court or the federal level always, and so states have to protect themselves," said Democratic state Del. Cia Price, one of two sponsors of the legislation. Price's bill was inspired by portions of the federal Voting Rights Act that were altered by a 2013 high court ruling.
---
Saturday, February 20, 2021 12:29 AM
See below for video from yesterday's Virginia House of Delegates meeting, as Democrats – Del. Marcus Simon, Del. Wendy Gooditis, Del. Cia Price, Del. Hala Ayala, Del. Mike Mullin – talked a new report from the Virginia Dept. of Elections which found that the 2020 election in Virginia was extraordinarily safe, secure and successful, and pushed back on Republican falsehoods about voting and elections. In stark contrast, Virginia House Republicans – Del. Dave LaRock, Del. Todd Gilbert, Del. Glenn Davis – spewed out their usual lies about mythical "voter fraud" and other idiocy, pushing their (in Del. Simon's words) "unfounded" "without merit" "dangerous" "narrative that casts doubt on the integrity of our election process…in spite of all the evidence" to the contrary.
As Del. Cia Price explained, Democrats "will go to great lengths to protect our democracy and make sure it's fair and accessible" and to fight back against "targeted efforts of voter suppression."
Sign Up for Updates
Thanks for signing up!