Welcome to my website! I was elected to represent the 95th District in the Virginia House of Delegates (parts of Newport News and parts of Hampton). I am honored to serve the citizens and help make the Peninsula an even better place to live, work, play, and raise a family.
The 2017 General Assembly Legislative Session adjourned Sine Die on Saturday, February 25, 2017. We reconvened for "Veto Session" on April 5, 2017. Be sure to check previous entries for updates from these important legislative sessions, including legislation that I sponsored.
On, Tuesday, November 7th, we elected new positions across the Commonwealth. Congratulations to Governor-Elect Ralph Northam, Lt. Governor-Elect Justin Fairfax, re-elected Attorney General Mark Herring, and new members to the House of Delegates. In Newport News congratulations to Sheriff Gabe Morgan, Commonwealth's Attorney Howard Gwynn, Treasurer Marty Eubank, and Commissioner of the Revenue Tiffany Boyle. In Hampton, congratulations to Sheriff BJ Roberts, Commonwealth's Attorney Anton Bell, Treasurer Molly Joseph Ward, and Commissioner of the Revenue Ross Mugler. I look forward to all working together to make the 95th District even better!
It's that time again, we are prepping for the 2018 Legislative Session! Session gavels in at 12 noon on January 10, 2017. Stay tuned for ways you can stay engaged for session and beyond. Continue to use your voice. Stay engaged on this site and our social media pages to stay connected to what we're doing and how you can help!
Now, let's go make a difference!
Sincerely,
Delegate Marcia "Cia" Price,
Virginia House of Delegates, District 95
"Be the change. Do the work."
News
Wednesday, November 15, 2017 8:21 PM
Gov.-elect Ralph Northam announced his bipartisan Transition Committee, consisting of Virginians from across the Commonwealth who will join him over the course of the next two months to lay the groundwork for a successful administration.
"This bipartisan group of community leaders reflects the diversity that makes our Commonwealth a wonderful and inclusive place to live," said Governor-elect Northam. (Click for full article)
---
Wednesday, November 15, 2017 4:45 PM
Transition heads of newly elected officials — Gov.-elect Ralph Northam say — can offer some important clues about priorities, including some that might not have been heavily emphasized during a political campaign that
One that emerges from Northam's list — a big voice for the Peninsula. As in: State Sen. Mamie Locke, D-Hampton, who has become a key leader of the Senate Democratic caucus; Del. Marcia "Cia" Price, D-Newport News, a co-chair of his campaign; Molly Ward, outgoing Secretary of Natural Resources and Hampton's Treasurer-elect; Ross Mugler, Hampton's Commissioner of the Revenue; Arnold Outlaw, president of United Steelworkers Local 8888 and Jeff Rowe, president of the Virginia Association of the International Brotherhood of Electrical Workers. (Click for full story)
---
Monday, November 13, 2017 12:00 AM
She said she gained a deeper appreciation of the complexity and consequences of the legislative districting process when Del. Marcia Price of the 95th District visited the class and spoke to the students about her district's demographics.
"The difficulty of our task became even more evident when we took into account the various socioeconomic factors that came into play when creating districts," Hudenburg said. "[Price] made it apparent that changing a single block could have an impact on her district, and she wanted us to realize that these lines really can make a difference in the elections." Other guest speakers included former Virginia Attorney General Ken Cuccinelli, Marc Elias, partner at Perkins Coie and the attorney who argued Bethune-Hill before the Supreme Court and Walter Olson, a senior fellow at the Cato Institute.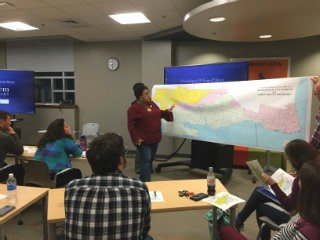 ---
Monday, November 6, 2017 10:00 AM
What's in a voting plan? How can you get prepared for tomorrow's election? Click here for more information on how to make sure your voice is heard!
---
Saturday, November 4, 2017 7:00 PM
Tuesday, November 7th, polls are open from 6a-7pm. Need more info? Don't think your vote counts? Listen here!
Every vote counts, but only if you cast it. Don't forget to vote!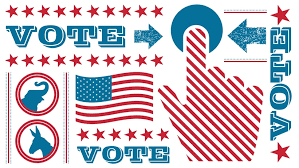 Paid for & Authorized by Friends of Marcia Price